Who's researching what… Lothar Goetz?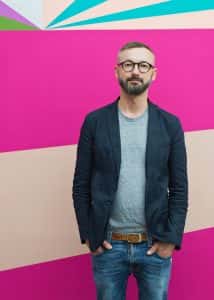 Lothar Goetz teaches on both the BA (Hons) Fine Art, and MA Fine Art programmes at the University of Sunderland.  He has also exhibited his own drawings and paintings nationally, and internationally.  His site-specific installations reflect his interest in how colour interferes with our perception of space, and have appeared in a variety of public spaces from hospitals to Piccadilly Underground Station.  You might have seen his work, 'Canon' at Haymarket Metro Station in Newcastle.
You can find more examples of Lothar's work on SURE, the university's research repository, as well as links to places his work has appeared.