Referencing using APA style for Psychology & Counselling students
There are several books in stock which will help you with your referencing using the APA style required by your department. Search the Library catalogue for useful titles to assist you.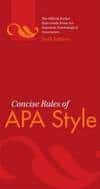 You can use our popular online referencing tool Cite Them Right, to help you to reference any type of material that you've used in your research and select which referencing style you are using – eg. APA.  All you need to access Cite Them Right is your University user ID and password. For more information about Cite Them Right click here.