Accessing essential library and skills for learning resources within Nurse Navigator
The University Library has a section within the module NURNNS_1617 BSc (Hons) Adult Nursing Practice – 2015 – 2016 available from the VLE: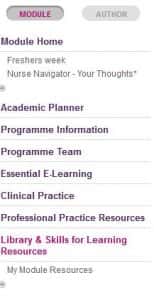 From this section you will be able to access the most relevant library and skills for learning resource relevant to your programme. Please have a look at the content in the Library and Skills for Learning Resources section. Relevant resources and content will continue to be added in this section.