LGBT History Project NE – Call for Speakers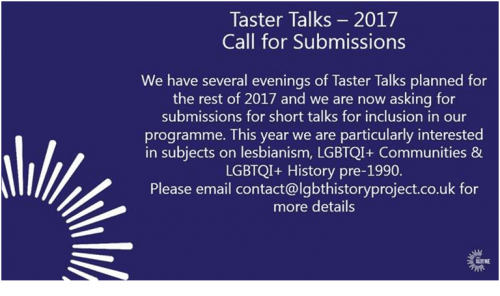 LGBT History Project NE are holding 'Taster Talk' evenings on the following dates (location to be confirmed but it will be city centre Newcastle upon Tyne) and we are seeking submissions and a call for papers:
13th July: 7-10pm (general theme from LGBTQI+ history)
14th September: 7-10pm (general theme from LGBTQI+ history)
30th November: 7-10pm (HIV theme for World AIDS Day)
We are after people to present at our talks (each talk is 20 minutes long). I have attached the application form. You do not have to be an expert in your area, you may simply have an interest and passion in any area of LGBTQI+ history. Talk topics can be as varied as you wish and may be about individuals, cultures, famous people, activists, periods in history, art, nation states, unknown and forgotten people, LGBTQI+ scenes and organisations, etc.  We are particularly interested in subjects around lesbianism and lesbian history, LGBTQI+ communities and LGBTQI+ history pre-1990, however we consider all talk topics.
The deadline to be able to talk at the July event is the 23rd June and the application form only takes a few minutes to complete. Please return it to andrew.dalton@sunderland.ac.uk before the 23rd June. Please note that you can pick which date (of the three) you would like to speak at on the application form.