Current awareness and saving a search that works!
Did you know you can set up alerts to receive emails when new issues of journals of interest to you are published, or that you can save a Library Search that has worked so you can easily run it again in the future?
We've summarised how to do this below – expand the different sections to learn more. If you've got any further questions do not hesitate to get in touch.
If you've found a particularly successful combination of keywords and you'd like to save the search so that you can run it again next month or at any later date you can, just follow these steps:
Make sure you have created a 'My Discover' account – this is separate to your University User ID and password, but it is free to create an account and once you do you can save your journal articles and searches.
In your results list, click on the 'Share' button and choose 'Add search to folder'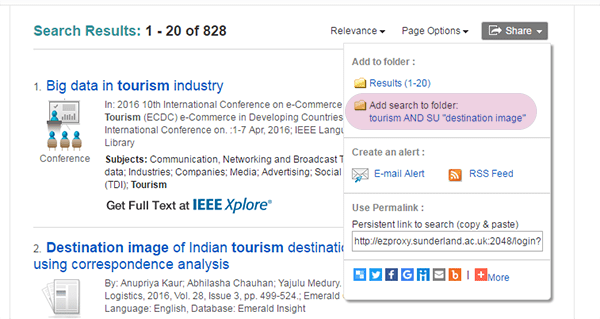 Once you've saved your search click on the 'My Discover' link in the top menu.

If you're already logged in the search will be saved to a folder called 'Persistent Links to Searches'. If you've not yet logged into your 'My Discover' account – sign in to make sure the search is saved to your account and not just to a temporary folder.

You will be able to copy and paste the persistent link to run the search again at any time.
If you would like to be emailed when new results are published that match your search criteria the you can set up an alert:
Above your results list click on the 'Share' button and click on Email Alert.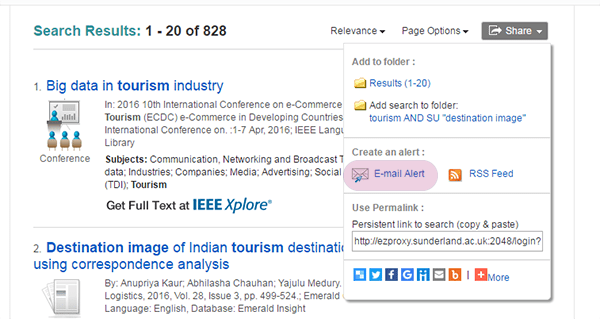 You will need to sign in to your 'My Discover' account.
Choose the frequency you wish to be emailed (daily/weekly/monthly)
Choose how much detail you wish to include in the email
Save the alert. You will also see an RSS feed which you can use if you prefer.
Zetoc is a comprehensive research database providing access to over 30,000 journal tables of contents and over 52 million article citations and conference papers through the British Library's electronic table of contents.
Watch this video to find out how you can use Zetoc to set up alerts:
View other Zetoc help videos such as how to search for journal records and how to login at the Zetoc  playlist on the library YouTube Channel.