Subject Support for Engineering – Key Resources

The library website contains links to useful subject-specific online resources. The Engineering Key Resources page will help you to find useful databases, websites and apps to help you with your studies. Click on the image below to view the page: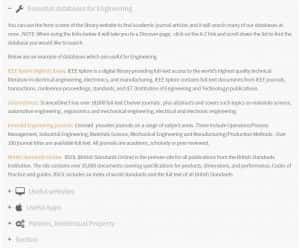 We have a range of over 500 ebooks on engineering which you can read or download from home via the library catalogue, just by logging in with your university user id and password. These can be accessed from here
Your Liaison Librarian for Engineering, who can help with subject specific queries and getting the most out of your library and subject resources, is Lynne Robinson.
There is also your dedicated Off Campus Support Team. We can help you with all your library related questions, and will always do our best to support you in any way we can. For help with using our resources from an off-campus perspective visit our section of the website