Finding Tourism, Hospitality & Events Books
You've probably noticed that we've been moving a lot of books around in the libraries over the last few weeks. Some subjects are now being taught at St. Peter's so we've moved the book collections for those subjects to St. Peter's Library. Here are some answers to questions about finding books at St. Peter's Library now:
What subjects have been moved?
Education, Social Sciences, History, English and Languages have been moved to St. Peter's Library
Psychology has been moved to Murray Library.
Everything else is the same so Tourism, Hospitality and Events Books have not been moved , in fact the good news is that we've got more titles that are useful for T.H.E. subjects.
With the exception of the Law Library, all books at St. Peter's are now running in numeral order, so you will find :
the tourism books upstairs at 338.4791,
the Events Management books downstairs at 384.2 and
the Hospitality books downstairs at 647.94068
Please keep in mind that subjects such as Events Management are interdisciplinary and there will be events books in other areas, for example books about marketing events in the Marketing section. That's why checking the Library Catalogue is so important – make sure when you make a note  the classmark from the Library Catalogue that you write the full number, to help you find it on the actual shelf.
Can I reserve titles that I need?
The reservation service is available for when :
a book you need is either based at another site – for example if you live closer to Murray Library and prefer to use that library most of the time you may reserve a book to collect at Murray Library for your convenience.
all copies of a title you need are on loan – you may reserve it and join a list so that you receive the next available copy.
If the book is on the shelf at the Library you're visiting then you won't be able to reserve it, but you can come in, retrieve it from the shelf and borrow it.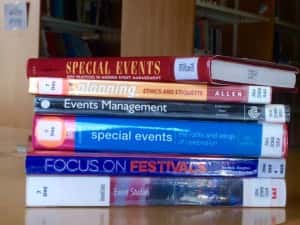 What are loan periods of books?
Books will be either 4 weeks, 7 week, 1 day or Not available for loan (reference only). Most books are 4 weeks, but if they are not, there will be a label on the spine of the book.
What if I can't find a book I need?
We'll soon be making our newly updated library maps available, but in the meantime you can always ask a member of library staff. Just pop by the desk or look for staff throughout the library – they'll have staff cards on and will be very happy to help you.