New School of Nursing
Senior health partners joined the University of Sunderland today, (Thursday 16th June 2016), to launch a new School of Nursing in the North East region, based in Sunderland.
The new School of Nursing will support NHS providers to fill nursing vacancies.
Sunderland CARE Academy partner organisations have collaborated to develop the programme, designed in response to Sir Robert Francis's report into the scandal at Stafford Hospital, which recommends the need for "rigorous nursing quality assurance", citing a shortage of nurses as a key factor in poor care of patients.
CARE Academy partners include City Hospitals Sunderland NHS Foundation Trust, South Tyneside NHS Foundation Trust, Northumberland Tyne and Wear NHS Foundation Trust, Sunderland Clinical Commissioning Group (CCG) and the Patient and Carer Involvement (PCPI) members.
The new School of Nursing will be housed within the University's Sciences Complex, home of its research laboratories and School of Pharmacy, though ambitious plans will see it expand into its own building in coming years.
The three-year course is also the very first in the UK to be directly linked into a School of Pharmacy. Developing nurses' skills and excellence in medicines management, ensuring medicines are being used correctly by patients, remains a serious issue in secondary and primary care.
Shirley Atkinson, University of Sunderland Vice-Chancellor commented: "The University of Sunderland has provided healthcare and clinical courses for the past 30 years and has a justified reputation for consistently delivering quality teaching and experience to undergraduates aligned to the skills employers need.
"These bespoke courses are part of the University's wider regional health strategy, to deliver real solutions to healthcare issues through research, innovation in new technologies and facilities to improve the health and wellbeing of patients, keeping them fit, active and independent."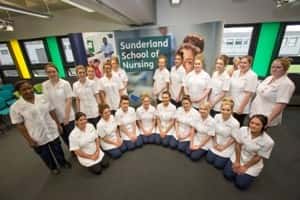 Melanie Johnson, Executive Director of Nursing and Quality at City Hospitals Sunderland said: "The launch of the new Sunderland School of Nursing at the University of Sunderland, and the new three-year BSc (Hons) Adult Nursing Practice degree course, is a very significant development for healthcare in the North East and we are delighted to be part of it.
"We have worked closely with the University to help develop the course and students will benefit from local clinical placement opportunities in both City Hospitals Sunderland as well as South Tyneside NHS Foundation Trust. The degree course complements the many opportunities we already provide to encourage people to make healthcare, and particularly nursing, their chosen career and I look forward to working with colleagues from the University as the School of Nursing becomes established."
Professor John MacIntyre, Pro Vice-Chancellor, and Dean of the Faculty of Applied Sciences, said: "This is a major milestone in the University's strategic development, investment in facilities and provision for patient-centred healthcare in our city and to the wider region.
"Sunderland has been providing health education for decades. The launch of our School of Nursing is borne out of that reputation and will respond to local and national qualified staff shortages in the health sector, as well as providing a great educational pathway for those going into such an important profession. We are incredibly proud to be working in partnership with our key healthcare providers as part of the CARE Academy."
Sue Brent, Principal Lecturer and Health Team Leader at the University of Sunderland, said: "The new School of Nursing is the product of our close working relationship with Sunderland CARE Academy partners and we're very proud of what this collaboration has achieved.
"We're all committed to working together to find effective solutions to health and patient care challenges and ensuring that patients in our region receive quality health care. It's this focus that is at the heart of the Nursing course curriculum.
Importantly for the region, many of the newly qualified nurses will remain in the North East when they graduate – helping improve the health of residents and ultimately support economic growth and prosperity in the region.
Sarah Reed, Assistant Chief Executive of Sunderland City Council, commented: "The launch of the new facility is a credit to the way that here in Sunderland and the North East people and organisations continue to work together for the wider public good.
"For many years there has been excellent teaching at the University of Sunderland to prepare graduates for work in the health and clinical sectors, and this new School of Nursing builds on those strong traditions.
"I expect that many of the school's future students, as well as being from the region, will make their careers in our region."
Students will relate the taught nursing theory to clinical practice, spending half of their time on placement in a hospital or community healthcare setting, giving them the skills, knowledge and experience to be able to make the evidence informed decisions that employers need.
Graduates of the three-year BSc (Hons) Adult Nursing Practice course will help meet the UK's growing demand for highly qualified healthcare professionals in the NHS and care services. On successful completion of the course, graduates will be eligible to register with the Nursing and Midwifery Council (NMC) as a Registered Nurse (Adult), and all are guaranteed an interview with an employer.
Sue concluded: "As a University we will ensure that any nurse graduating from our new course is fit both for purpose and practice, equipped with the necessary skills and values to deliver 21st century care."
More information on the Adult Nursing Practice BSc (Hons) course is available here.